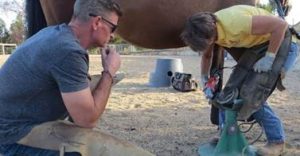 How To Arrange Field Instruction
Contact the field instructor and set a date that is agreeable to both of you.
Use the appropriate Paypal button below, the one to the left of the field instructor, and pay the fee. Paypal is a secure path for payment. You do not have to have a Paypal account to use Paypal. Pay with a credit card if you like. That's all there is to it.
Field instruction is available only to those who have attended a Gateway Clinic. It is an opportunity to hone your trimming and horse handling skills under the direction and supervision of a highly-skilled professional trimmer with years of experience. It is also an opportunity to learn how to set up, promote and run a successful trimming business, how to stay fit for trimming and avoid injury, how to interact with clients if you trim professionally, and so on.
Certification as a Hoof Care Professional requires the completion of at least three field practicums.
Certification in the program for mounted professionals requires the completion of four field practicums, one with Officer Scott Berry, one with Officer Danny Pryor and two additional practicums with field instructors of your choice.
Field instruction is available to those in the non-professional program but is not required.
United State
Arkansas
Richard Drewry, MHCP, CBS
Harrison, Arkansas, USA
Home: 870-429-5739
Cell: 870-577-3974
Email: bootngo@ritternet.com
Louetta Plumlee, CHCP, CBS
Berryville, Arkansas, USA
Home: 870-749-2207
Cell: 870-423-9396
Email: barefoothorse4you@yahoo.com
Bruce Goode, CHCP
Davis California, USA
Cell: 530-400-2441
Email: bruce@hooftrack.com
Kentucky
Ann Corso, MHCP
London, Kentucky, USA
Cell: 606-224-0466
Email: anncorso@me.com
Skype: ann.corso
Mississippi
Mark Taylor, MHCP, CBS
Ashland, Mississippi, USA
Home: 662-224-3043
Cell: 662-224-4158
Email: talloakhorsefarm@yahoo.com
Skype: barefoot191
North Carolina
Mike R. Smith, CHCP, CBS
Statesville, North Carolina, USA
Phone: 704-592-5034
Email: msranch@yadtel.net
Ohio
Dora Hebrock, CHCP, CBS
Akron, Ohio, USA
Home: 330-644-1954
Cell: 330-803-2043
Email: dora@dorahebrock.com
Pennsylvania
Nancy Frishkorn
New Castle, PA
724-462-8656
South Dakota
Cynthia Niemela, CHCP, CBS
Hill City, South Dakota, USA
Home: 605-574-2469
Cell: 612-481-3036
Email: naturalhorsecare10@gmail.com
Tennessee
Dr. Neal Valk, DVM, DACVS
Greenville, Tennessee, USA
Phone: 423-639-9200
Email: Vwaldgraf@aol.com
Texas
Eddie Drabek, CHCP, CBS
El Campo, Texas, USA
Cell: 979-533-1731
Email: drabektx@hotmail.com
Joey Muzquiz, CHCP
Abilene, Texas, USA
Cell: 210-274-7943
Email: joey@steelbent.com
Scott Berry, CHCP, CBS
Cypress, Texas, USA
(Northwest Houston area)
Cell: 713-857-5344
Email: drafthrsmobile@hal-pc.org
Danny Pryor, CHCP, CBS
Brookshire, Texas, USA
Phone: 713-823-6573
Email: equinehoof@gmail.com
Kathy Beagle, CHCP
New Cumberland, West Virginia, USA
Serving West Virginia, Eastern Ohio and Western Pennsylvania
Phone: 304-479-1869
Email: kdrosieb@yahoo.com
Bulgaria
Canada
Bruce Goode, CHCP
Vernon, British Columbia
Cell: 250-545-6948
Email: bruce@hooftrack.com
Darcy Bulmer, CHCP, CBS
Enderby, British Columbia, Canada
Home Phone: 250-838-6938
Cell Phone: 250-515-3150
Email: gobarefootbc@gmail.com
Kevin Glenister, CHCP
Dryden, Ontario, Canada
Home Phone: 807-937-5109
Cell Phone: 807-221-7630
Email: kglenister@dryden.ca
Russia
Polina Vorobyova, CHCP, CBS
Saint-Petersburg and Moscow.
Phone: +79052297721
Email: Firsthoofcare@gmail.com
Skype: polinka4441
Spain
Dr. Albert Villasevil Florensa, CHCP, DVM
Spain
Phone: +34 686 54 88 22
Email: podoleg.equi@gmail.com
Skype: alhanduin
Marc Sánchez Carbó, CHCP
Barberà de la Conca, Spain
Phone: +34 606 58 52 85
Email: marc.ferrador@gmail.com
United Kingdom
Sarah Oliver, CHCP
Covering Scottish Borders, Dumfries and Galloway, Cumbria, North Yorkshire and the North East.
Mobile Phone: 07837904076
Email: s.oliver302@gmail.com
Lindsay Setchell, CHCP
Covering Cornwall and South Devon, UK.
Phone: 07588 249078
Email: linds@hoofingmarvellous.net