The Gateway Clinic
The Foundation For All LH Hoof Care Training Programs
The five-day Gateway Clinic (GC) is a perfect venue for enlightened individuals seeking authentic information about factors that affect hoof health and the mental and physical well-being of horses. GC participants receive extensive hands-on, supervised trimming instruction.
Importantly, however, the GC is a hoof care clinic, not just a trimming clinic. Hoof health is determined by many factors. Trimming is one important element. But hoof health and shape are also significantly influenced by management practices, and environmental and lifestyle factors. Deficiencies in these areas can undermine the efforts of even the most highly skilled trimmer. It is imperative that hoof care providers understand this basic premise and, importantly, know that problems caused by such factors cannot be fixed by trimming. Instead, the root cause of the problem must first be addressed. Then, proper trimming can facilitate healing. Consequently, GC participants receive extensive practical and theoretical information about how management practices, and environmental and lifestyle factors affect hoof health.
Hoof health and shape conversely can affect general health, biomechanics, and well-being. The relationships between hoof, body, and mind are reciprocal and inseparable. Factors that affect one, either directly or indirectly, affect the others. This is another important premise that permeates every aspect of the Gateway Clinic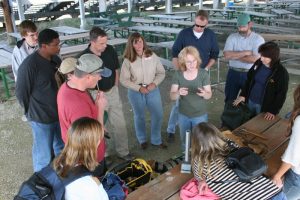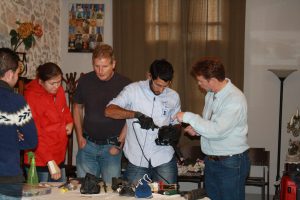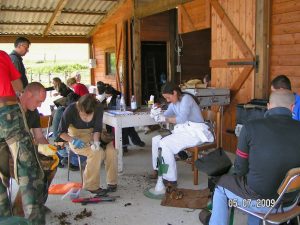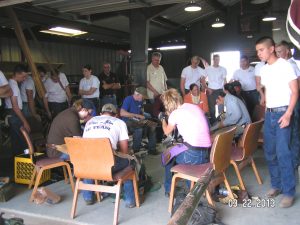 The International Gateway Clinic
The Longhorn Conference Center
Tuscon, Arizona
May 8 – May 12, 2023 — Registration is open
Please note: Ranch policies require us to close registration 3 months before the event … or when the clinic is filled (as it was in 2022). So, please register early.
The Venue
The White Stallion Ranch is a traditional, historic, upscale family-owned and operated "Dude Ranch ." It is a perfect venue that everyone enjoys. Situated between Phoenix and Tucson, the ranch is only 35 minutes from the Tucson International Airport and 90 minutes from the Phoenix Sky Harbor International Airport. It is readily accessible for both domestic and international travelers.
In a normal year, "easily 45%" of guests are from abroad.

The 12 Best All-Inclusive Resorts in the United States for 2019
USA TODAY 10 Best Summer Vacations in the U.S. for Families – 2021
Voted Best Family Resort by USA Today 10 BEST Readers' Choice Awards – 2018
16 Best All-Inclusive Resorts in the U.S. ~ MSN Lifestyle 2016
Ranked #1 on TripAdvisor of 133 Hotels in Tucson for 9 consecutive years
TripAdvisor Travelers Choice Award 2018, 2019, 2020, 2021
Ranked 19th of the Top 25 properties in the USA for Exceptional Customer Service by TripAdvisor in 2014 & 2017
Instructors
Dr. Bruce Nock, MS, PhD., LH owner, biomedical scientist, and recently-retired medical school professor.
Ann Corso, Co-founder of LH Barefoot Initiative, Director of LH Barefoot Training Programs, Owner of Beautiful Feet Natural Hoof Care, LLC, and Master Hoof Care Professional
Steve Hebrock, MS, author of the Enlightened Equine blog, retired university instructor, Master Hoof Care Professional, and Certified Booting Specialist.
Cindy Hall, Certified Zoo Hoof Care Professional, Animal Operations Manager at Naples Zoo, LH Zoo Liason, and Key Figure in The LH Training and Certification Program For Zoo Professionals.
The Registration Fee Includes
Registration
Registration for the May clinic, i.e., May 8 – 12, 2023 will remain open while rooms are still available at the ranch. As of February 6, five rooms are available. Rooms go quickly at the ranch, so, if you intend to come in May, register as soon as possible. All registrations must now be paid in full, that is, no partial payments will be accepted.
Please Note: Approximately three months before the Gateway Clinic, we will send an email message to all registered participants confirming that the event will take place. We suggest you wait until then to make plane reservations. This will prevent the loss of travel funds due to an unexpected cancellation of the clinic, e.g., an instructor's illness, travel restrictions, etc. If such an event occurs, we will refund all registration fees in full. Our policy for participant requests for refunds is described below.
You do not have to have a PayPal account to use the buttons below. After clicking the PayPal button you can choose the "Try Another Way" link to pay without signing into a PayPal account.
*First-time Participants*
Single occupancy (you will not have a roommate). US$3,040 Registration fee.
Double occupancy (you will be assigned a roommate of the same sex). US$2,620/person Registration fee.
Double occupancy with a companion. A companion is a person who accompanies a clinic participant to enjoy the ranch and surrounding area but will not attend the clinic itself. The companion and seminar participant will be assigned a double room. Two double occupancies (US$2,620/person) with a US$900 discount for the companion. US$4,34 Registration fee.
*Returning GC or Masterclass Participants Receive a US$900 Discount*
Single occupancy (you will not have a roommate). US$3040 – US$900 discount: US$2,140 Registration fee.
Double occupancy (you will be assigned a roommate of the same sex). US$2620 – US$900 discount: US$1,720/person Registration fee.
Double occupancy with a companion. A companion is a person who accompanies a clinic participant to enjoy the ranch and surrounding area but will not attend the clinic itself. The companion and seminar participant will be assigned a double room. US$4340 – US$900 discount: US$3,440 Registration fee.
Refund Policy
Full refunds will be given up to 90 days before the event. The ranch imposes a penalty payment equal to one day of room and board from 90 days to 30 days before the event. LH will refund the rest of the registration fee during that period. After 30 days prior to the event, no refunds will be given.
Surrounding Attractions
Sonoran Desert
The White Stallion Ranch is in the Sonoran Desert—a subtropical desert and the most complex desert in North America. It is the only place in the world where the famous saguaro cactus (Carnegiea gigantea), a symbol of the American Southwest, grows in the wild. But don't be fooled by the term "desert" because mountain ranges in all directions offer scenic drives and even snow skiing. It has great diversity in geological structures as well as the number and variety of plants and animals. There are many local attractions to entertain family and friends accompanying seminar participants. Or stay extra days before or after the seminar to fully enjoy surrounding areas and attractions and the ranch's activities.
Other Local Attractions:
Arizona-Sonora Desert Museum – This 98+ acres is a unique combination of zoo, aquarium, botanical garden, natural history museum, and art gallery, and focuses on educating visitors about the various flora and fauna found in the Sonoran Desert region. It features over 200 species of desert animals and over 1,000 types of plants.
Tombstone – "THE MOST AUTHENTIC WESTERN TOWN LEFT IN THE UNITED STATES. Walk the very same streets where Wyatt Earp and his brothers enjoyed the company of the likes of Doc Holliday! Step inside the historic buildings where a game of Faro or Poker would have called to the weary miner or even inside the silver mine where that precious dollar was once earned! Stand where the legendary stories of the past actually occurred and encapsulate yourself in our authentic Wild West History!" Only 90 minutes from White Stallion Ranch.
Pima Air & Space Museum – One of the largest air & space museums in the world. It features over 300 aircraft and spacecraft at the 80+ acre facility. Learn about the history of the US Air Force with the museum's historical tour through the ages, and visit a replica control tower.
San Xavier del Bac Mission – This 18th-century Spanish Catholic mission is often considered to be some of the finest Spanish colonial architecture in the United States. Located on the Tohono O'odham San Xavier Indian Reservation, it attracts over 200,000 visitors each year. Come experience the serene atmosphere in one of the oldest European buildings in Arizona.
Kitt Peak National Observatory – Boasting the largest and most diverse astronomical equipment in the world, including 24 telescopes, Kitt Peak offers perfect views of the night sky. Day and night tours are offered.
Biosphere 2 – A center for research, outreach, teaching, and life-long learning about Earth, its living systems, and its place in the universe.
Sky Islands of the Coronado National Forest – The soaring mountains, deep canyons, and the unique plants and animals of the Sonoran Desert draw over a million visitors a year to the Sabino Canyon Recreation Area.
Tubac – A "historic destination for the arts! Tubac features over 100 eclectic shops and world-class galleries situated along meandering streets punctuated by hidden courtyards and sparkling fountains."
The Reid Park Zoo – A 24-acre city-owned and operated non-profit zoo located within Reid Park in Tucson, Arizona. The zoo features more than 500 animals.
Tohono Chul – Recognized internationally as the premier center for understanding and appreciation of the Sonoran Desert region through its fusion of nature, art, and culture.
Kartchner Caverns State Park – Voted "Best Arizona Attraction" by USA Today 2017 Reader's Choice Awards. "Enter a secret underground world millions of years in the making — bounding with exotic cave formations rarely seen elsewhere. Marvel at nature's creations in this living and contained ecosystem. Discover delicate soda straw formations, gravity-defying helictites, drapes of waving flowstone, and the grandeur of Kubla Khan — a formation standing six-stories tall."
La Encantada – An outdoor shopping center that includes a large variety of luxury and specialty retail stores including Apple, Crate & Barrel, AJ's Fine Foods, Anthropologie, lululemon, and Madewell, as well as several restaurants